Healthcare SaaS: Why cloud-based SaaS is the future of Health care?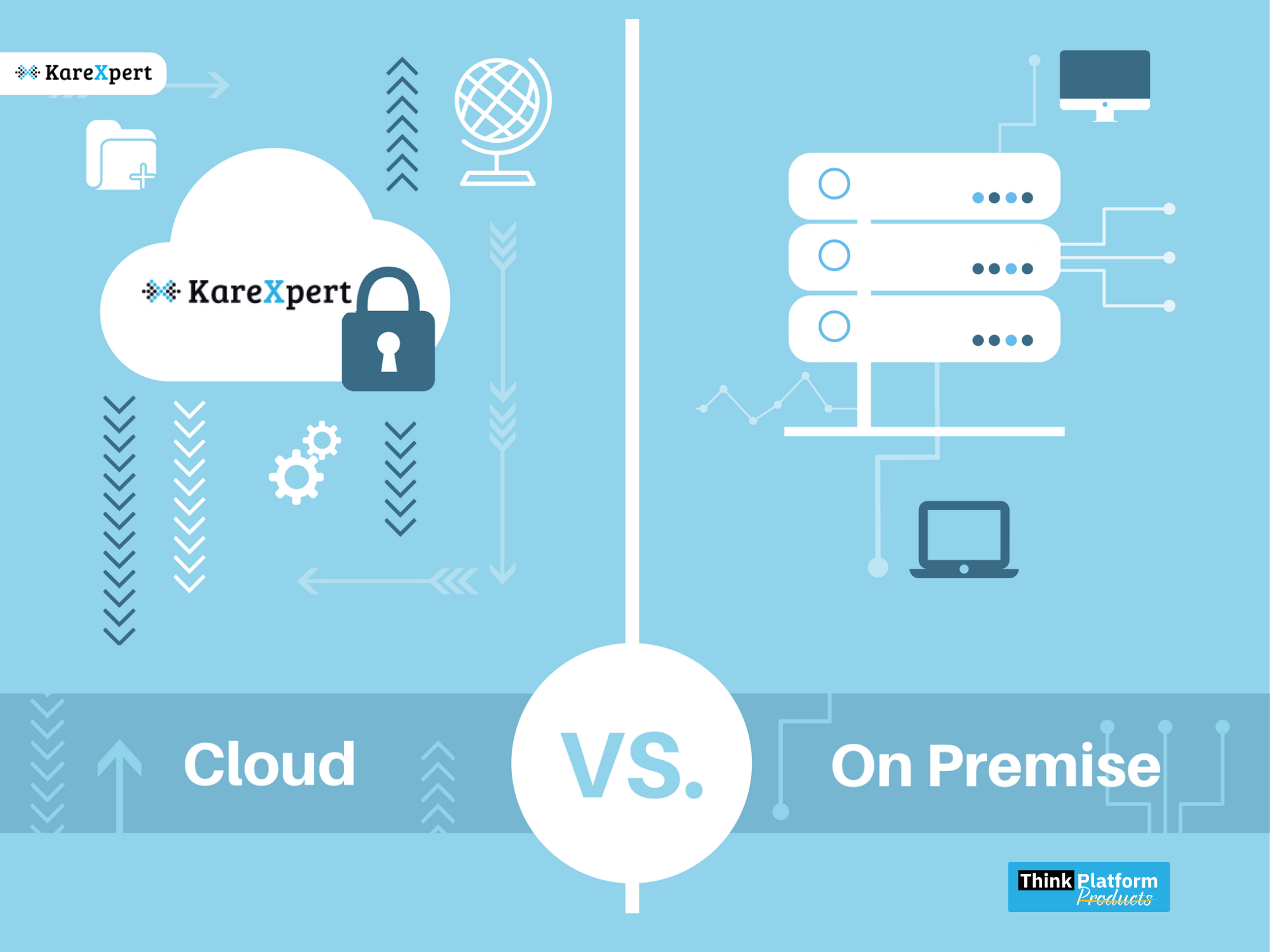 Cloud-based solution vs On-premise solution for healthcare IT – Which is the best choice for Hospital?
Most healthcare providers in India, US, UK, and other parts of the world truly embrace the benefits of cloud-based  IT systems. Earlier many healthcare organization use a traditional system which needs to be installed on hospital premise but now it is no longer obvious, now the number of healthcare providers opting for SaaS-based solution is increasing at a rapid rate.  Recently one research report has shown, the global market for cloud technologies in the healthcare industry is USD 25.54 billion in 2020  and expected to grow USD 64.7 billion by 2025 at a CAGR of 18.1%
SaaS comes with many benefits. Health Tech companies are focusing on reducing the operational cost of hospitals and improving productivity and ehnacing Patient Experience. Once it was a very difficult task to maintain Hospital IT for CIOs, as On-premise systems required to install in every device as well as data lost probability is increase as servers are installed within the hospital premises, and data security is also one of the biggest Problems earlier.
But now many Healthcare CIOs feel by applying a Cloud-based solution will help in improving productivity, reducing operational cost, and enhancing the patient experience as well as an increase in the satisfaction rate of staff.
Strategic and operational perspective
Before moving into the financials, you should determine whether a cloud-based system will fit your Hospital IT operations or not as well as the need to analyze as per a Strategic point of view. The organizational prerequisites are highly dependent on the role, competence, and Hospital  IT department and their willingness to store patient data in the cloud (rather than on local servers).
An organization with many geographical locations and large organizations is one example where a cloud-based and centralized IT infrastructure would be advantageous over an on-premise environment. 
Another example is if the workflow is likely to change over time—growth through new sites and modalities, new technologies, AI research, etc. In this case, the scalability of the cloud outperforms on the Premise System.
There are few very crucial areas in any hospital that need to be evaluated are security and fault tolerance. Utilizing a Cloud-based solution means that a lot of the responsibility for system uptime and security compliance is the key focus of any HealthTech company and that definitely reduces the stress of Hospital IT as well as improving productivity.
Few things need to be evaluated as per the strategical and operational fit:-
Is purchasing cloud-based SaaS is in sync with our strategic direction?




 The cloud-based system is in sync with our IT strategy and does it support the future role of our IT department?

Given our future operations, is scalability important?

What is the plan for a disaster Scenario, are our in-house IT Team can handle it or not?

In case of cybersecurity threats are our in-house Team is competent enough to handle this such Situation.

Which solution is best for our operations today and tomorrow, with respect to clinical workflows, operations, staff satisfaction, patient satisfaction, and costs?
Financial perspective
The main challenge involved in the financial evaluation of the two models is to make a comparison between cloud-based and the Premise system. A SaaS/cloud delivery model include benefits such as System security and  100% Service uptime, fast access to new features updates, and Upgrades
On the other hand on Premise system does not guarantee data security, as servers are installed locally, so hospital IT needs to take care. The On-premise system does not guarantee the Data lost and data recovery as the system is installed on local servers. So it is the full responsibly of Hospital IT
There is one most important aspect which needs to be considered on the highest priority is the impact on the budgeting of the various business models and the time value of money. A certain time period for the business case needs to be considered  and the present value of the total cost of ownership needs to be calculated for both models (On-premise & Cloud-based) 
Few things need to be evaluated as per Financial point of view:-
When creating a financial comparison between the cloud-based and on-premise systems, the total cost of operations must be calculated.

The time value of money needs to be considered in the various business models to calculate the net present value as well as the rate of interest needs to be clearly defined while evaluating the cost

The cloud-based solution will reduce some of your internal costs for hardware, software, and maintenance, which can be very difficult to estimate.

The added benefits of a cloud solution should be estimated and added to the model, which can be challenging.

If we talk about the business models, a  cloud-based system is often Pay-Per use and subscription-based, capitalizing on the organization's OPEX budget. 

In the on-premise model based on CAPEX Budget, the hospital needs to pay the liscense fee upfront together with a  monthly and yearly service fee as well as annual maintenance cost.
Understand the added benefits of the SaaS/Cloud offering
Reduced cost for IT environment
Reduced  Service downtime
Improved security with 7 layers of Security
Improved scalability with advance technologies
Improved Productivity of staff and management
What it boils down
With the cloud-based model, the Health-Tech companies create higher value, reduces risks of security, and saves IT costs of the healthcare organization. While considering all the factors like IT software installation cost, new feature cost, server cost, electricity cost to maintain servers, and  IT security staff cost, then we can simply say cloud based system  is the best fit for any hospital
Last but not the least, you need to think yourself: do we really need to run the IT system on our own servers, or can hospital become an even better and more cost-efficient health provider by letting Health Tech Companies focus on their core business in order to improve the IT environment, higher productivity, low operational cost and better patient care.