Start your full-fledged virtual clinic
Many Applications, One Platform
Any Time
24/7 consultations. Define after-hour consultation.
Anywhere
Self/home care in the urban area or set up a satellite clinic in rural areas.
Any Health Care
Primary care, preventive consultation, follow-up or emergency consultation.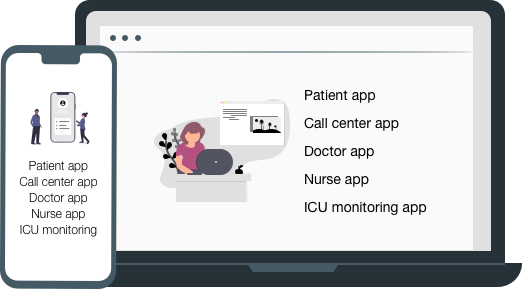 Admin Portal
Cloud Hospital Admin
Add/Edit/Delete Doctors accounts.
Enable/Disable Services
Manage patient healthcare and enable/disable doctor consultations, satellite clinics, health checkups, etc.
Onboard Doctors, Hospitals
Create a Doctor, Hospital profiles, Appointment Schedules, Fees, etc.
Payments
Set your consulting charges and enable payment via cash, wallet, net banking, or credit card.
Doctor Portal
Doctors Profile
Register, edit profile page, availability.
View Patient Records
Manage Appointments, Search, Sort, Find Nearest Hospital, Payments.
View Appointments
Upload/Access health records, prescriptions, modalities, etc.
Make E-Prescription
Create and share e-prescription including treatment plan, lab test, medicine dosage, etc.
Telemedicine
Provide teleconsultations via video, audio, or chat.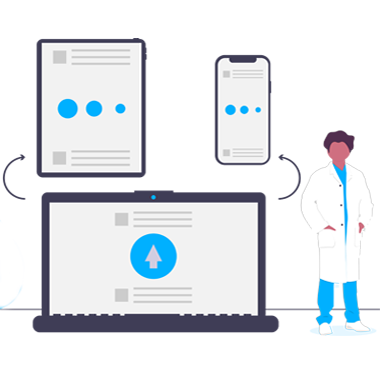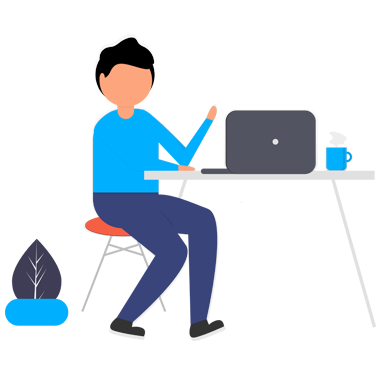 Patient Portal
Manage Profile
Manage account, add family members, etc.
Patient Health Records
Create & upload patient medical records like X-Ray, ECG, MRI, past prescriptions, diagnostic reports, etc.
Self Service
Symptom checker, Book Appointments, Search/Sort/Find Doctors, Specialist doctors, Make Payments
A Complete Package
Book Appointments
Define and allocate consultation time slots as per your schedule.
OPD Consultation
Book OPD consultations and manage queues.
Pharmacy Shops
Order & pay online for the medicine and track delivery of the order real-time.
Diagnostic Labs
Order lab test with home sample collection.