Key Benefits of Cloud Computing in Healthcare – KareXpert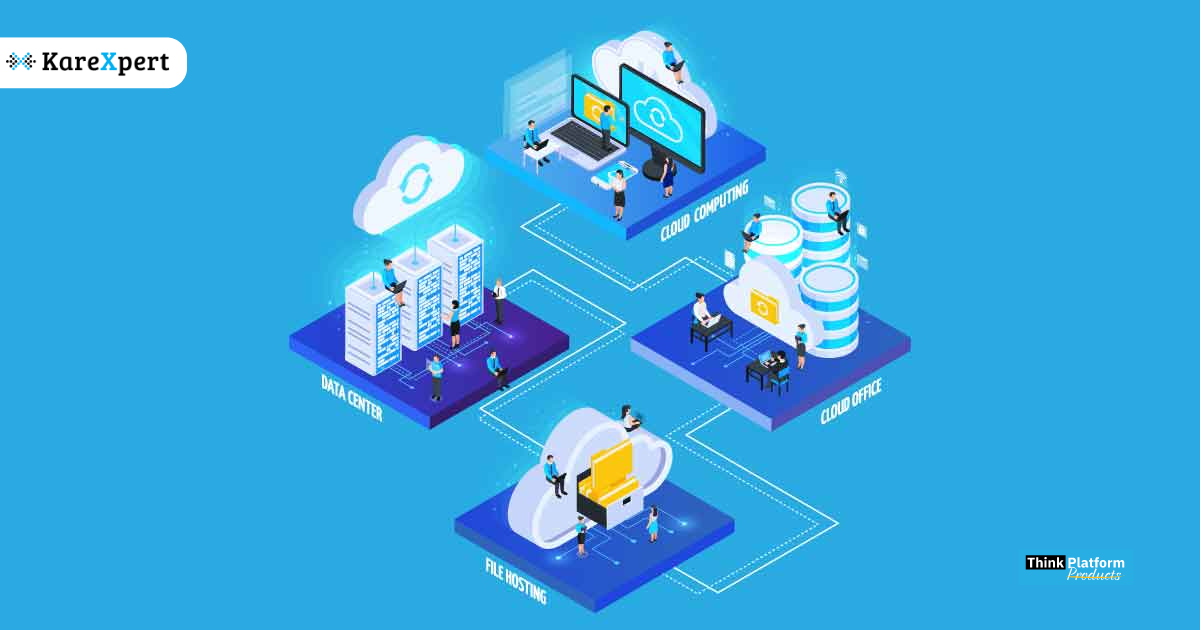 Turning to cloud computing allows healthcare companies to make the most out of patients' data. Cloud computing in the healthcare industry evolves IT infrastructure by reducing huge investments in legacy systems and modernizing database recovery, data backup, and data hosting processes. 
According to a recent report, cloud computing in the health sector is expected to exceed USD 64.7 bn by 2025.
What is Cloud Computing in Healthcare? 
Cloud computing can be defined as the on-demand availability of IT resources over the internet. It provides the opportunity to access all your systems, servers, and software from anywhere. Contrary to traditional ways of managing servers, software, database, analytics, systems, networking, and intelligence, cloud computing in healthcare is innovative in its delivery model. 
What are the Benefits of Cloud Computing in Healthcare?
Cloud computing in healthcare brings modern technologies and effective business processes, automation, and data security and increases collaboration between internal/external stakeholders.
Implementation of cloud computing in healthcare brings transformation in the exchange of electronic medical records and lab reports. With the reduction in operational expenses, hospitals achieve the capability to manage day-to-day administrative activities. Further, cloud computing in healthcare meets all compliance requirements which increases trust among users. 
Apart from this, cloud computing in the health sector revamps operations.  A few more notable benefits of cloud computing in healthcare are mentioned below: 
Helps streamline collaborative patient care:

Cloud is set up in the hospital with the motive of improving collaboration between team members. This provides easy sharing of medical records and lab reports from anywhere which accelerates a collaborative approach to improving patients' health. 

Provides better data security:

Given the benefits cloud computing provides, there's always a concern about the security of patients' data among healthcare professionals. To address this unmet need of hospitals, cloud computing facilitates security in the hospital as it supports the Health Insurance Portability and Accountability Act (HIPAA) and General Data Protection Regulation (GDPR).

Makes record-keeping more efficient:

The manual method of managing patients' health records increases hospital difficulties, where a major part of the assigned team time is invested in correcting errors in records. 




But with the decline of paper-based approaches to managing patients' health records in hospitals, healthcare professionals (HCPs) rapidly adopted  Electronic Health Records (EHRs) as it allows better management of health records across all the hospitals.

Now in the digital era, cloud computing facilitates the deployment of electronic health records (Electronic Health Records) in the cloud, where healthcare professionals can access the EHRs and do the required update in time.
Creates opportunities for big data apps:

Cloud computing in the healthcare

industry also contributes to the benefits of big data applications. It creates opportunities for these apps to improve patient outcomes.

With the usage of Electronic Health Records (EHRs), there is a vast amount of patients' data which has a lot of value for the research work and analysis. When deployed on the cloud it increases the capability to analyze and predict the future epidemic in advance for the benefit of the human race in the longer run. Imagine, when it is used worldwide, how beneficial it would be for mankind.

Minimizes data storage costs:

For a while, an on-premise setup may help you in your hospital's financial operations, administrative activities, and overall patient care. But with the passage of time, this requires huge investment in maintenance, training of IT staff, and machine and server costs. These are just a few, the list goes on increasing gradually. 

To achieve economies of scale with time,

cloud computing in the health sector

works toward stopping the usage of hardware and infrastructure. So that you can provide your team with easy accessibility to your IT infrastructure.
Offers scalability and flexibility:

The implementation of cloud computing in healthcare is an appropriate measure to reduce up-gradation costs and achieve scalability. Cloud medical systems are designed to reduce data management costs.

Also, many healthcare organizations engaged with cloud services have received the benefits of pay as you use model. This allows them to embrace rapidly changing digital transformation at their own pace.
Improves patient safety and care: Electronic Health Records Software on the cloud are meant for increasing the efficiency of your staff and improving inpatient care. But this facility is limited only to hospitals that embrace digital transformation and those that do not face struggles with on-premise systems. This could be a huge problem in the near times because this could lead to unnecessary repetitive tests and delays in the treatment process.

This can be over with

cloud computing in healthcare

. As it provides actionable insights into conversations between patients and healthcare professionals. Patients' money can be saved on over-prescribed drugs. Also, hospitals can focus on more critical patients.

Provides real-time clinical data:

Another valid reason to move ahead with

cloud computing in the health sector

is that when physicians are occupied with a lot of work, cloud-based solutions offer secure and significantly better analytics powered by Artificial Intelligence and Machine Learning algorithms for managing databases and reducing treatment time.

Automates and streamlines manual processes:

Once a healthcare organization embraces cloud services, costs involved in manual methods to manage medical records, files, databases, etc, can be diminished with the emergence of savings provided by

cloud computing in the healthcare

industry. 

It is of no surprise that the cloud has shown a path to achieving cost savings in financial operations, and administrative tasks and widens the scope to accelerate growth while improving and monitoring the performance of employees.

Cloud computing in the healthcare industry leads to continuity in business even during challenging times like the Covid-19 pandemic. This not only enables authorized users to get remote access to data but also automates backups, and performs fast database recovery within time. 
Conclusion 
Few may have doubts regarding cloud security, data interoperability, and data blocking. If there are, they must be discussed, because this is the future. Luckily, with us, you will get your every doubt resolved. If the discussion won your trust, we can unlock the potential of the cloud for you.
Cloud computing adds value to the healthcare industry. When implemented properly, the final outcomes are better.