What is Virtual Healthcare? & Benefits of virtual healthcare technology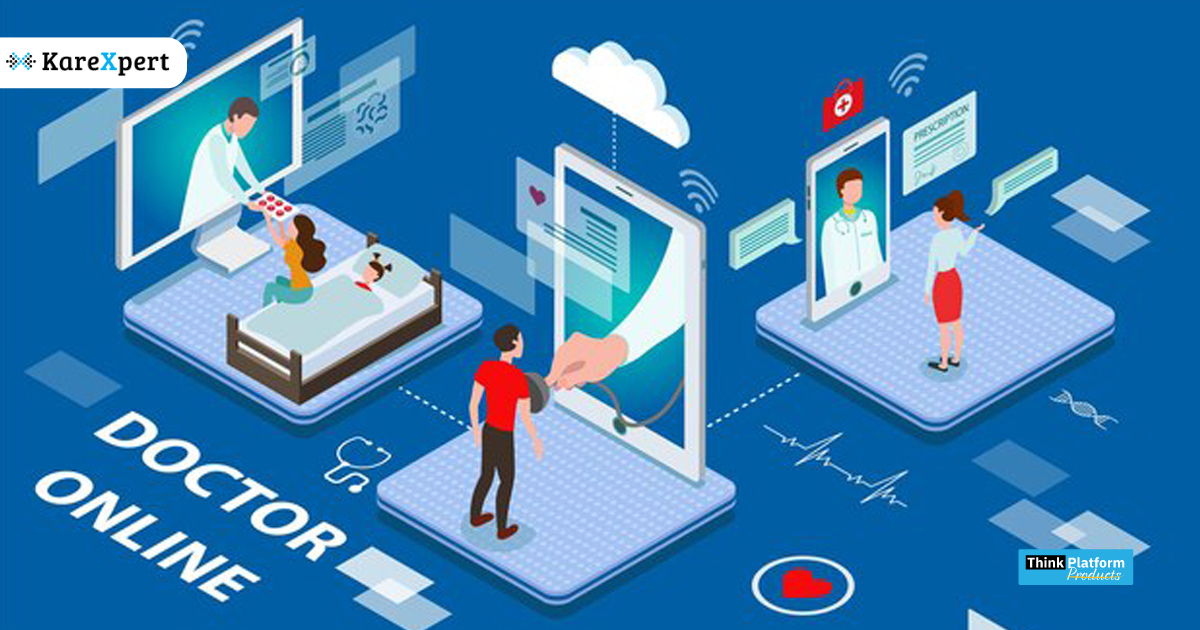 The global market size of virtual healthcare was estimated to be US$21 billion in 2019. The industry is expected to record a staggering growth to reach US$95 billion by 2026. Several factors have accelerated virtual healthcare the world over, which includes the increasing capabilities of digital technologies, faster and cheaper Internet connectivity (4G/5G), increasing affordability of digital devices, and the ongoing COVID-19 public health crisis. Virtual healthcare has received strong support from all quarters in the past few years. Many international bodies such as World Health Organisation have recommended exploring virtual healthcare strategies, such as telemedicine, to strengthen healthcare delivery.
India too has embarked upon its mission of digitally connected healthcare services under the National Digital Health Mission. For the first time ever, virtual healthcare strategies are being seriously considered at an unprecedented level by various economies as a potent means to amplify access and reach of affordable healthcare. However, first and foremost, it is important to define and understand the concept of virtual healthcare.
Concept of Virtual Healthcare
The concept of virtual healthcare has been around for decades. It is a broad term encompassing several healthcare strategies, such as telehealth, telemedicine, digital healthcare, so on and so forth. Virtual healthcare is a system of delivering affordable medical care, knowledge, education, and training to remote locations, across vast distances. The system of healthcare delivery leverages digital infrastructure and technologies including various information and communication technologies (ICT) to deliver health-related services.
Benefits of Virtual Healthcare
There are several benefits of virtual healthcare.  Some key benefits are as follows.
Boosts accessible and affordable healthcare.
The biggest challenge virtual healthcare addresses is that it fulfills the requirement of primary healthcare services and doctor's consultation in remote places at a highly reduced cost. The whole system functions effectively with low investment in physical infrastructure and brings a wider population under institutionalized healthcare. There is optimum utilization of time for both doctors and patients, as there is no need for physical travel. 
Improves quality of patient care.
Virtual healthcare includes the exchange of patient health records and diagnostic reports electronically with the doctor, which helps them draw accurate clinical assessments of a patient's medical conditions. Virtual healthcare leverages various technologies for specific healthcare delivery and public health objectives. For instance, it includes education and training of local healthcare staff, promotes public awareness, ensures continuity in healthcare delivery, enables patients to access their own medical information, applies evidence-based therapeutic interventions, etc. All these measures help in delivering quality patient care.
Makes self-care more efficient.
In the information age, knowledge is power. Even in rural and remote areas, literacy is making a gradual impact, and people are more aware of their health needs. Virtual healthcare makes them more aware of their health parameters using point-of-care devices and makes self-care more efficient.
Virtual Healthcare Vs Telehealth Vs Telemedicine
Virtual healthcare, telehealth and telemedicine are often used interchangeably, as they appear to be theoretically closely aligned. Although there is universally accepted definitions differentiating between them, there are unique differences between all three modes of healthcare delivery. In brief, telemedicine is a subset of telehealth, which is a subset of virtual healthcare. 
Telemedicine utilizes ICT to provide only clinical services via two-way live audio-visual communication between a healthcare provider and the patient in a remote location.  Telehealth includes telemedicine and other non-clinical services as well such as imparting health education to patients and professionals and supporting the administration of public health. Virtual healthcare includes telehealth and a host of other health strategies including remote patient monitoring, e-triage, guided or self-directed patient care, and replacement therapies.
Challenges of using Virtual Healthcare
Every new system that has major benefits also has some challenges. While virtual healthcare is a very lucrative proposition for policy-makers and healthcare providers, it has its own set of challenges. Some of the key challenges are as follows. 
Low digital literacy
While we are foraying into a majorly digital, most Indians, and especially those who belong to underserved areas or sections of society, have low digital literacy. This limits their ability to understand new-age technologies and utilize them as needed. The low digital know-how and decreased tech-savviness are major roadblocks to rolling out virtual healthcare. 
Data connectivity and digital technologies
While India is rapidly digitalizing it still has a major distance to travel in connecting its remotest corners with a strong data infrastructure. Good internet connectivity is the backbone of virtual healthcare and so it is essential that the services are backed by a strong data connection. Similarly, people in rural and remote areas need to have access to affordable digital health technologies beyond smartphones.
Integration challenges
Quality healthcare delivery through virtual route needs both physical devices and digital connections to be able to offer a seamless experience to the patients and the doctors. Therefore, integrating central healthcare providers, remote healthcare facilities, labs, pharmacies, supporting staff and patients is a big challenge.   
Clinics need effective organizational strategies
Clinics, hospitals, and healthcare providers who intend to deliver virtual healthcare need to have a strong organizational strategy in place. Without a strong virtual healthcare model, implementing it on the ground will cause even bigger challenges in delivering quality healthcare making the effort counterproductive.   
Future of Healthcare
While the challenges exist, the advantage of receiving clinical consultation at the most difficult times is a boon unmatched, and the guidance can even be a lifesaver. The COVID-19 pandemic has had a lasting impact on the country's ability to deliver clinical consultation to a huge population. The Government has worked hard and fast on the front. So much so, during the first lockdown in 2020, the Ministry of Health & Family Welfare introduced India's first-ever dedicated telemedicine policy guidelines. 
Within 6 months, the Hon'ble Indian Prime Minister boosted the digital healthcare infrastructure by launching the National Digital Health Mission. Till 2019, under the ambit of virtual healthcare, the telehealth medicine segment alone was worth USD829 million. As per Statista, this is expected to reach by USD5.4billion by 2025. Virtual healthcare is bound to be the next level of medical care delivery. It is the future of healthcare and it is imperative that healthcare providers adopt the technologies swiftly and rapidly. 
Conclusion
The COVID-19 pandemic has been an eye-opener for the world. It has shown how virtual healthcare can be a difference-maker in providing medical services remotely even in cities or places that have adequate access to quality healthcare services. It has accelerated the adoption of telemedicine and telehealth across the world in urban and rural areas alike. Technologies have helped us to connect faster, stronger, and better, across long distances. Now is the time we leverage these technologies to make healthcare, which is the basic right of every individual, accessible. Now is the time we begin ushering India into the world of virtual healthcare.
More FAQs
Below are a list of most commonly asked questions
How do Virtual Healthcare services work?
Virtual healthcare is an effort to improve the health of the patient or provide treatment to the patient in a way similar to the in-person visit. There is a usage of video, audio and other technologies to start a conversation between a patient and doctor. Compare the lab reports, track and monitor vitals and take right correction for treating a disease are some of the actions which can be performed through virtual healthcare services.
What kind of issues can a doctor address online in Virtual Healthcare?
Common cough and cold, skin rashes, mental counselling and after-surgery therapy are the various issues that can be addressed by a doctor via virtual healthcare. All the steps required prior to the consultation are necessary here such as appointments, scheduling, etc. Until and unless it is required to dress a wound or to treat some serious ailments present in the body, a patient can consult a doctor virtually for sharing lab reports, and discuss further treatment procedure.
How is virtual healthcare different from telehealth?
In virtual healthcare, there is a use of the internet and devices to liberate patients from in-person visits. whereas there is an integration of information and communication technologies in telehealth to promote and protect health.
Recent advancement in monitoring and tracking of patients, ability to access medical records in different systems and machines, intelligence in the usage of data all comes with virtual care.
Though telehealth can be used to treat patients remotely. But with the right technologies healthcare facilities can also provide medical education and share health awareness.