What is Digital Healthcare: Definition, Future, Benefits, Products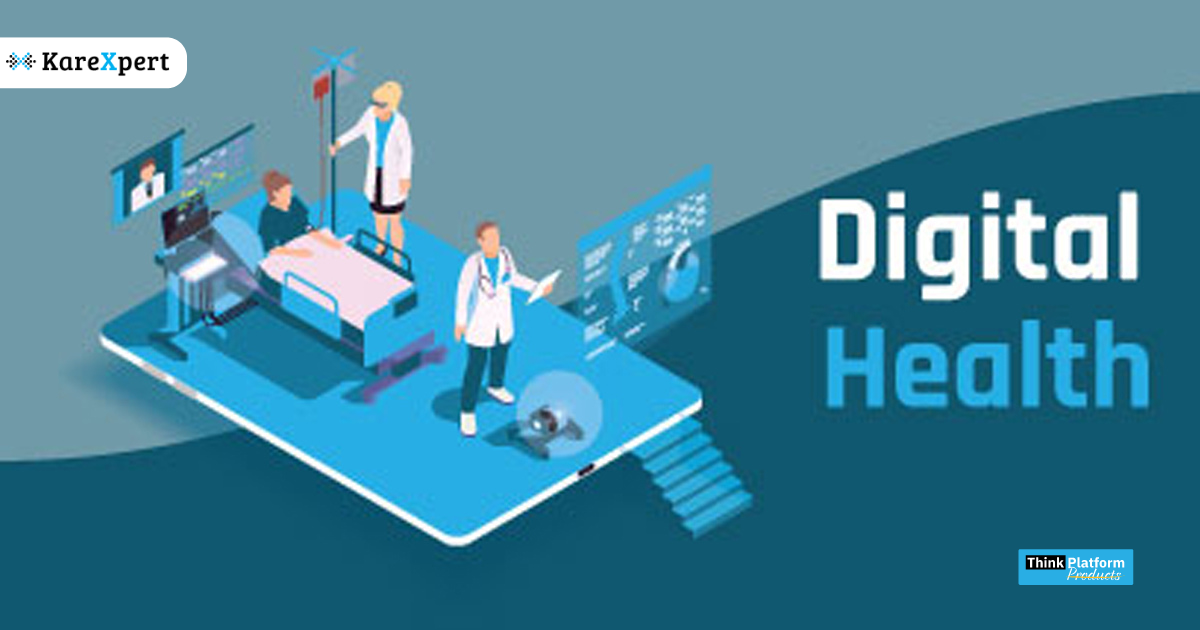 On the 74th Independence Day, Hon'ble Prime Minister Shri Narendra Modi launched the National Digital Health Mission (NDHM) from the ramparts of Red Fort. The announcement put the spotlight on digital healthcare. While NDHM is a voluntary government health initiative integrating various stakeholders with digital infrastructure, digital healthcare, in the form of various technologies, offers tremendous value to the health industry.
Understanding Digital Healthcare
Digital healthcare is a system of medical care delivery that uses an array of digital technologies to make quality medical care services accessible, affordable, and sustainable. Most digital technologies find applications in the healthcare industry. These technologies include software-as-a-service (SaaS), cloud/edge computing, internet-of-things (IoT), artificial intelligence/machine learning (AI/ML), Big Data, 3D Printing, robotics, and assistive technologies, and immersive technologies like virtual/augmented realities (VR/AR).
Digital Health Technologies
One or more digital technologies are employed to develop cyber-physical, digital, or phygital applications for the healthcare sector. Specific solutions help healthcare service providers with definite objectives. Some of the common digital healthcare solutions are as follows. 
SaaS
The secret behind effective healthcare services is the efficiency by which the healthcare provider can seamlessly deliver quality treatment. Every healthcare provider has countless systems, workflows, and processes to implement. These are related to administrative, operational, compliance, and treatment functions. Streamlining everything becomes a big challenge for any hospital. 
SaaS solutions can address most of these challenges. The solutions work based on a subscription-based model where hospital management software is licensed to a healthcare provider. SaaS solutions leverage cloud technologies, AI, and other digital technologies to integrate multiple processes and systems together. The plug-and-play solutions are easy to install and execute as well as make running a hospital faster, better and smarter. As they are externally managed, they are cost-effective, secure, and scalable. 
Telemedicine and Telehealth technologies
Telemedicine leverages telecommunication and electronic information technologies to provide only clinical services to patients in remote locations. For instance, a remote patient's health reports and details are shared with a doctor. The patient and doctor interact through audio-visual communication channels, and the doctor's prescription is sent to the patient in almost real-time. 
Telehealth is telemedicine and much more. It includes non-clinical services as well. Other than telecommunication technologies, it leverages other digital technologies to provide clinical services, impart health education to patients and professionals, and support the administration of public health.
Mobile health (m-Health) and wearable technologies
These applications help in the sharing of health information through mobile technologies and wearable devices. m-Health technologies use mobile applications and wearable technologies, such as smartwatches, fitness bands, etc., to track and monitor various health parameters such as heart rate, blood pressure, blood sugar, sleep quality, so on and so forth.
Electronic medical and health records (EMR/EHR)
Our medical history is a window to our health, which can guide doctors to make the correct diagnoses and prescribe treatment regimens. But often, we don't have the information as only a few people may have historical medical records intact. Digital technologies, every patient's EMR/EHR can be maintained at a centralized repository which can be accessed by a patient or an authorized doctor from anywhere in India at any point in time. This will empower hospitals and doctors to make more informed decisions about a patient. From a policy-making viewpoint, it will also give Government a national and regional picture of the prevalence and incidence of diseases, which will help them design better public health policies. 
Personalized medicine
This is the next frontier of healthcare delivery. Using advanced digital technologies, it is increasingly becoming possible to devise a customized treatment regimen that is unique to an individual patient. An emerging field, personalized medicine uses the individual genetic profile to devise a treatment regimen, and digital technologies are playing a major role in the evolution of this field. 
Benefits of Digital Healthcare
Digital healthcare is gaining huge popularity amongst healthcare providers. World over, healthcare leaders and hospital administrators are accelerating the adoption of digital healthcare solutions. The following are some of the benefits of digital healthcare which have made digitalization a must for the healthcare community globally. 
Digital healthcare solutions are easy to adopt, implement, and scale up and down as per the needs of the healthcare provider. 

The solutions make healthcare delivery operations and systems more efficient and effective.

They enhance the quality of treatment and healthcare services.

They amplify the reach and accessibility of medical care services to distant geographies. 

Digital technologies make healthcare more affordable to people across socioeconomic order.

Healthcare delivery becomes stronger with more agility, resiliency, and adaptability against uncertainties. 

They boost the sustenance and viability of hospitals and healthcare models.

They help guide public health policy-making at the regional and national levels.
Challenges of Using Digital Healthcare
As no system is perfect, digital healthcare has its share of challenges. The following issues create reluctance in healthcare service providers and keep them from digitalizing their systems. 
Reluctance to change:

As human beings, we get comfortable with established systems and patterns that we have worked hard to adapt to. New technologies and processes disrupt existing systems, and hence, there is an innate nature to resist the adoption of digital technologies. 

Low digital expertise:

Much of the Indian healthcare workforce and population have low digital literacy and expertise. As a result, there are significant time, cost, and energy factors involved to upskill the workforce to optimize the use of digital healthcare solutions. Digital education of the generation population is also important so that they can access and interact with digital healthcare solutions. 

Cost of transition:

There is a significant cost involved in transitioning to digital healthcare solutions, especially when hospitals want to have their own digital solution. While digital technologies are cost-effective, but the realized value comes over a period of time. However, innovative models, such as subscription and pay-per-use formats, are making the switch to digital healthcare economically viable. 

Data quality and security:

Digital systems are relatively new, complex, and vulnerable to cyber threats. Healthcare providers usually need more than mere assurances to trust the security of a system they are about to adopt. They also have to be sure that the data generated is accurate and of high quality. 

 

Government policies:

Historically, technology evolves faster, and policy-making follows. Policy uncertainties around digital healthcare solutions impact their acceptance. 
Conclusion: Digital Healthcare Is the Future
Despite the challenges, the benefits of digital healthcare solutions outweigh the problems faced in their adoption. As the sector grows, the problems will be resolved and ironed out, and digital healthcare will emerge as a backbone of the healthcare industry. Adopting digital healthcare is easy, and healthcare providers globally are making that first leap in the direction. The question is: when will you do it?