Role of Business Intelligence(BI) in Healthcare – KareXpert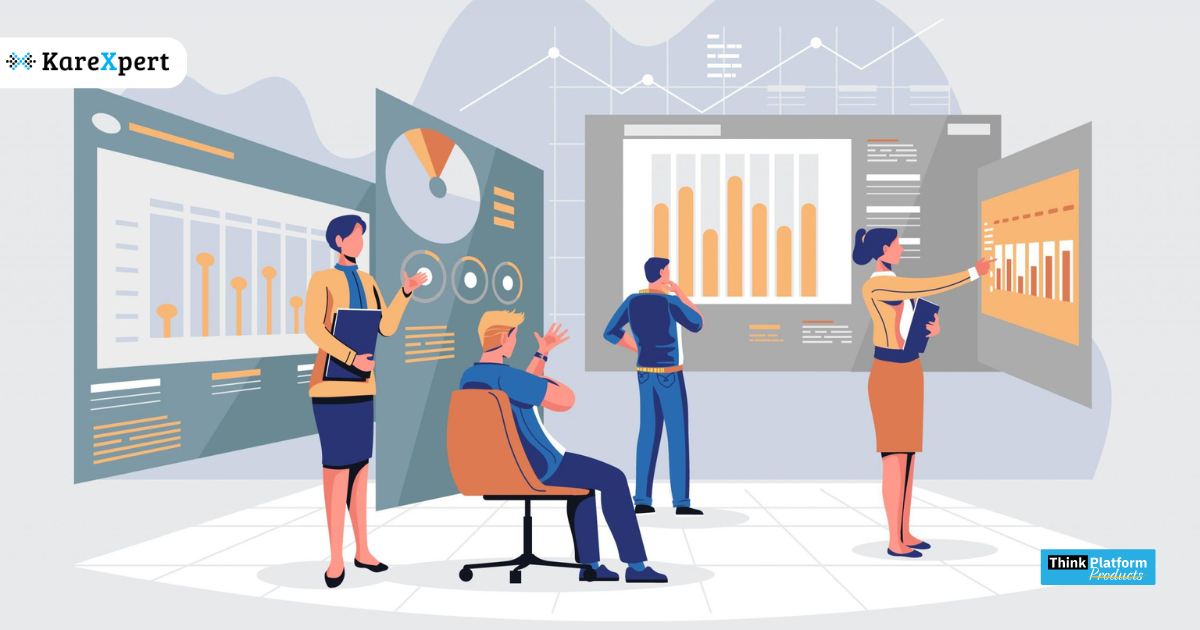 What Is the Role of Business Intelligence (BI) In Healthcare?
Healthcare Business Intelligence (BI) aggregates and analyzes different types of healthcare data, including medical history and financial data. It also enables users to store data in a centralized data warehouse, secure data, and share business reports with authorized users only. This contributes to patient treatment by predicting the risks and delays patients are likely to encounter in hospitals.
What Is BI In Healthcare?
As in healthcare facilities, a lot of data is generated through laboratory tests, EHRs, and financial operations, it collects all data and turns it into actionable insights for better research work and patient care. It empowers users to make effective data-driven business decisions and improve patient care. 
What are the Benefits Of Business Intelligence In Healthcare?
BI works for efforts to improve patient experience, increase revenue and reduce operating costs. Healthcare facilities have realized its undeniable benefits in many ways.
Performance evaluation

: It has the capacity to deliver accurate insights on which doctor has misdiagnosed patients a maximum number of times. Patients prefer which doctor most for a specific treatment. It helps the healthcare facilities' staff to continuously work towards improving their daily efforts while saving the lives of patients, improving medicines, reducing costs, and researching.
Seamless communication and collaboration

: Like any other industry, the healthcare facilities also encounter challenges in bringing people from different departments for a common goal. But with the use of interactive BI dashboards and visual reports, it is easy to identify weak areas of business and share reports across the organization. Which ultimately helps to improve the communication and collaboration efforts of the team.
Financial planning

: Business Intelligence in the healthcare sector offers management the ability to reduce operating costs of the business and better granular visibility into financial activities. With faster monitoring of cash flows to billing processes, the healthcare sector is moving ahead.
Reputation management

: The process of deciding which patient to admit in time and which can be discharged safely is quite complex and difficult.

Unnecessary delay and hospitalization of patients lead to not only wastage of medical emergency staff time but patients who really need treatment quickly keep waiting for their time. In addition to this, it translates into unnecessary costs borne by patients, insurers, and hospitals. If the hospital team is unable to admit a patient in need of care and monitoring, this can result in serious complications and even casualties which may hamper the hospital's reputation.To avoid all this, bi in healthcare can help you to allocate your resources properly and manage time properly to improve every patient's well-being.
Visualizes data

: The ability to visualize data which comes up with a business intelligence dashboard helps users to apply a more conscious approach for using available resources.
Improved decision-making

: Healthcare professionals from different departments often need to work together in critical cases. Many times their coordination, decision-making and treatment process, sometimes get delayed due to the unavailability of resources, especially devices, facilities as well as complicated system operations.

But if there is easy and quick access to patients' data on a centralized Business Intelligence portal everything becomes easy. Besides this, visualized reports provided by business intelligence can make it easier for hospitals to make good decisions.
Personalized services for patients

: With the help of Business Intelligence, HCPs can personalize the treatment journey of the patient.

For example a patient was diagnosed with cancer in 2016 and then got cured in a few months but after a few years cancer relapsed. But with the use of business intelligence physicians can derive the value from the patient's historical data and afterward provide him the most suitable treatment. Personalized care for patients including personalized medicines is becoming a norm in the healthcare industry. With individual patient records capturing all information including individual and family medical histories, diagnosing a disease is becoming a lot easier.
Improved patient care and satisfaction

: Spontaneous clinic readmissions quite often are the costliest administrations in medical services. Readmissions influence patient fulfillment and increase the chances of adverse results.

Many variables can add to readmission, and it isn't generally about erroneous treatment. Patients may be unable to plan a follow-up discussion with the doctor, may not bear the cost of medicine, or simply ignore the lifestyle recommendations. BI instruments can consider that large number of variables while predicting risks and aiding resolve them without the requirement for readmission. It is developed to offer detailed insight on every aspect of the patient's health.This removes the requirement of repeated tests. Further, with patient data becoming so comprehensive and detailed, doctors will be able to focus more on patients, thereby boosting patient morale and satisfaction.
Easy cost allocation

: One of the major contributors to fast-changing hospital costs is patient variation and waste associated with treatment. In an effort to reduce cost of patient care and cut wastage, Healthcare Providers (HCPs) are now leveraging the capability of data analytics. A healthcare Enterprise Data Warehouse (EDW) organizes a hospital management system's clinical, financial, patient satisfaction and administrative data into a single source of information that helps to take a data-driven path of cost management. With all the data available at one place, activities such as costing and billing are free of errors and variables can also be calculated in time.
Helps with future planning

: It can also help in the prevention of genetic and or life style disorders in patients. With easy accessibility to family medical historical data, genetic disorders are easy to understand. This helps the physicians in evaluating the risk of the patient to any diseases and suggest habits changes and or any alternative option to prevent the disease in the patient or reduce their effect on patients.

Also, with huge data availability and applying analytics on the same can help uncover areas of wastage. Apart from this, it can be used for identifying trends and predicting which events are probably going to happen. For instance, foreseeing the likelihood of effectively treating a population segment with a specific prescription.
Conclusion
It is not hard to say that benefits of bi in healthcare are numerous, if properly implemented.
With business intelligence in healthcare, the efficiency of the workforce including patient care, financial operations and administrative activities can be improved. It can also empower healthcare providers to respond promptly for helping patients in times of their needs by providing valuable insights for faster decision making.