How Does An EHR Improve Patient Care?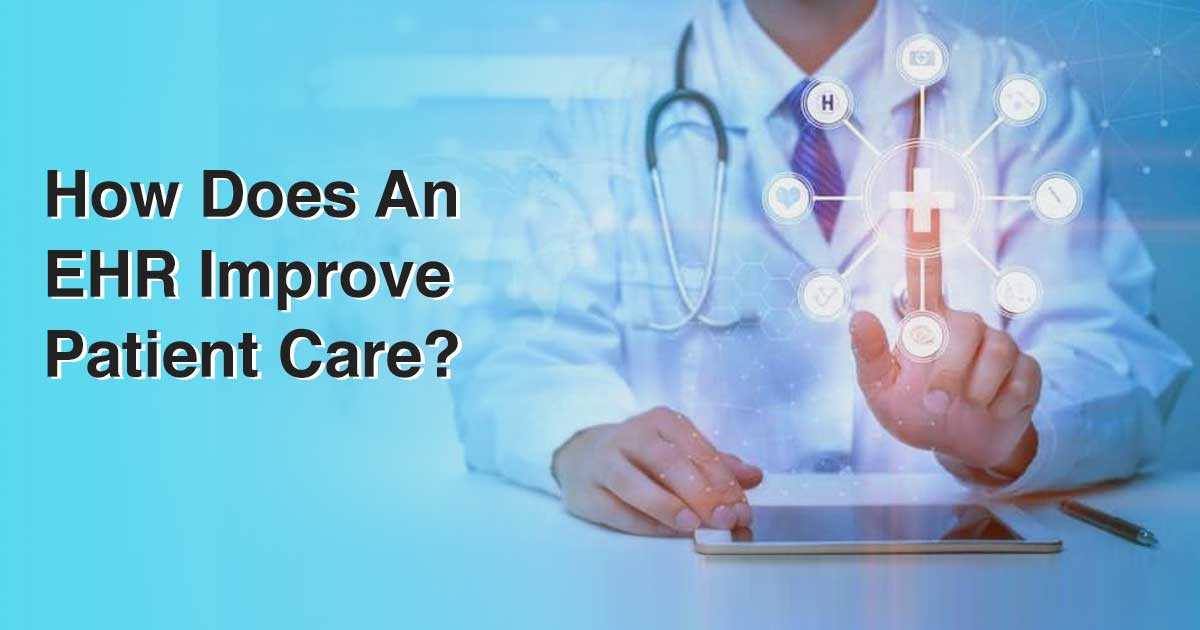 With electronic health records, the healthcare industry has undergone a massive change in the last few decades. Now patients' files have made a transition from papers to computers successfully.
It has emerged as a breakthrough tool. Today providers are empowered to navigate to future success all by receiving valuable insights from EHR solutions. These insights are vital to understanding complex diseases and evaluating better treatment options.
As per a recent survey, 75% of healthcare providers reported that ehr empowers them to improve patient care. Besides, 88% of those surveyed responded that EHR also enables them to achieve significant benefits for the medical practice itself.
You can leverage its benefits only when you truly understand what it is really. No limited knowledge of the EHR will help you if you are planning to use it. To get the desired results from this system it is crucial for you to know what is EHR in healthcare as it is giving great benefits to patients as well as physicians.
What Is Electronic Health Record In Healthcare?
EMR/EHR software enables hospitals to track and monitor patient records by authorized users only.
A secure access to a patient's data, gives physicians more opportunities to treat patients properly. Key benefits of EHR also assists in improving patient care delivery.
How do electronic health records improve patient care?
The Healthcare sector leverages ehrs to shift from a conventional approach to advanced methods for treating patients. Recent advancements with it have revolutionized the healthcare sector.
Together with electronic health records, hospitals are empowered to improve the quality of patient treatments and streamline operations.
It's important to look at the EHR benefits to patients because the inability to keep track of health records is now becoming a thing of the past. Nowadays distinguished benefits are visible.
How do electronic health records improve patient care?
Providers may have lagged with health records, but electronic health records have changed the scenario dramatically in recent years. And now, a vast number of patients and providers are believing in the power of EHR. It is improving patient care in many ways.
10 Ways EHR Can Help Improve Patient Care
For Patients
Helps simplify workflow
Generally, patients with diseases like COPD, asthma, arthritis, and cancer have plenty of complex medical records. When they are digitally accessible, it empowers physicians to identify all essential aspects for further treatment plans.
Upgrades clinical processes
With EHR, it is effortless to reduce the unwanted situations that patients have to encounter usually. Not only that, it helps physicians and laboratory teams to track and monitor patients' vitals.
Careful examination of each level of patient treatment journey would grant actionable insights on how to decrease the queues and waiting time of patients in hospitals and clinics.
With this, patients would also face the result of a less time-taking process while waiting for medicines from the drugstore or consultation.
Boosts patient safety
Before EHR, even though there were physicians and nurses, there was no clear visibility on how much patients have to wait to meet a physician. But with EHR, there are well-integrated scheduling systems and portals to reduce the waiting time.
The positive impact of e-prescription is also seen when patients easily get quick access to medicines.
Helps patients take preventive measures
Improving the care and treatment provided to patients would consist of identifying patients who are about to receive a screening test. Such preventative steps can uncover earlier symptoms of serious diseases such as stomach cancer, septicemia, or liver diseases.
It would empower patients to educate themselves through EHRs. Patients should know what is right for them and what is wrong and adjust their behavior and lifestyle accordingly. When appropriate actions are taken by the patient for their health, it resolves smaller health issues and reduces the chance of life-threatening disease.
Improves patient engagement and compliance
It is crucial to establish an effective dialogue between patients and a physician. For that, patient portals strengthen patient and healthcare provider relationships.
The use of the EHR proves beneficial when patients or caregivers are able to view medical records as well as prescriptions. The aftermath of this is that patients are able to ask queries or questions related to their ongoing treatment procedure. If patients have a misunderstanding around information or they found an error in records they can reach out to the doctor for more clarity. This leaves very little room for errors in health records.
It comes to our knowledge that when patients are imparted with truthful information and education about their health it ensures trust and compliance in their treatment journey. The more they receive information about further steps or procedures they participate more with healthcare providers to get the best possible outcomes.
How has EHR changed healthcare?
In a continuous effort to best of the best healthcare services, EHRs have helped healthcare facilities to improve. It reflects workforce efficiency and ability. Details are listed below.
For Healthcare Workforce & Establishment
Cost-effective
Electronic health records present an outflow of well-coordinated patient care. With fewer readmissions and less paperwork, patients visit clinics or hospitals at the correct time. The impact of this is that it gets easier for healthcare providers to facilitate on-time delivery of services. Such factors contribute to the cost savings for physicians and patients
Efficient administration processes
In healthcare facilities, employees feel more empowered with intelligent systems that make their work easier. With accessibility to rightly distributed information, they get more aware of current activities. Also, their role becomes more relevant as they become responsive to patients' needs. The administration goes through change, enabling a shorter and more effective process.
Easy communication
All healthcare professionals have to communicate with a team when they have to solve any problem or innovate something. These efforts when supported by electronic health records, it becomes easier to collaborate with each other in a coordinated way.
Improved patient care outcomes
All it requires to create a remarkable difference in the healthcare sector is to have a centralized database which can be accessed from anywhere by authorized users. Whether the patient is at the medical center or in the physician's clinic, the essential information will be available without any alterations. It is now easier to get data on ongoing conditions of chronic patients suffering from allergies or illness. The data that is collected by the electronic health records can be helpful in efforts for improving final patient outcomes.
Improved access to healthcare data
Lab tests, patients' vitals, and devices related data are crucial for patients and providers, but prior to EHRs, access to data was a challenging task. As soon as electronic health arrives for benefiting patients, healthcare providers now have the power to access data to authorized users only.
Conclusion
The undeniable benefit the healthcare facilities get with EHR is phenomenal. By knowing what's in EHR for healthcare, providers get the ability to get the latest information, be it records, vitals, cost, and so on. As information support is great with EHR, providers are now in a position to make much better decisions.