Advance Telemedicine Digital Platform LIVE in Paras Hospitals Pan-India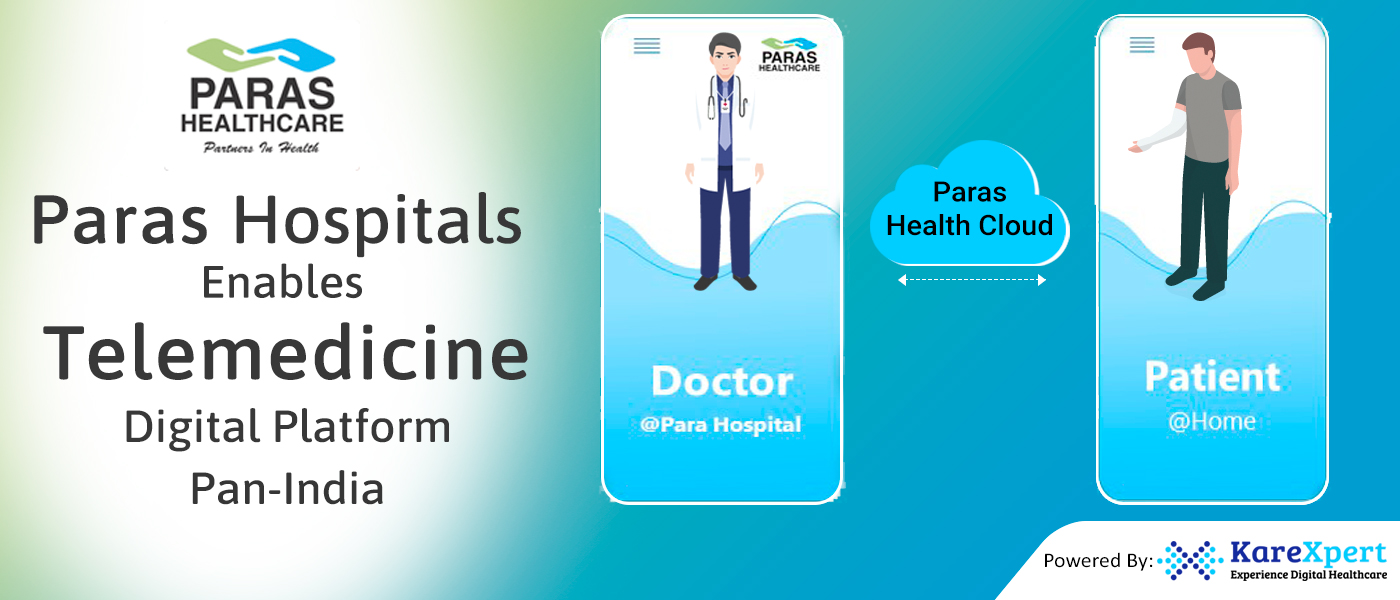 Gurugram: KareXpert Technologies, a Reliance Jio funded digital telemedicine platform provider makes services live in Paras Hospitals (Gurgaon, Darbhanga, Patna, Chandigarh, Mohali). One of the leading & top hospital chains on the Pan India basis, Paras Hospitals are known for its top-class treatment of cancer, cardiac, neuro, ortho, etc.
As a result of pan India lockdown due to the COVID-19, Paras Healthcare experienced a 50 to 60% decrease in patient footfall. Even the patients who are in need of medical services are afraid to visit the hospital due to the fear of exposing themselves to coronavirus infected patients. This led to the underutilization of hospital doctors and drastically increased the per patient servicing cost. This has resulted in the immediate need to implement the Telemedicine at Paras Healthcare. A telemedicine digital platform helps Corporate and Large hospitals to maintain a constant revenue stream along with proper utilization of doctors.
KareXpert Telemedicine digital platform enabled around 400+ doctors across five units of Paras Healthcare to perform audio/video consultations, send E-prescriptions and access patient EMR/EHR records, and integrated call center CRM. The whole set-up of the solution took just a few hours with zero IT staff requirements from Paras's side using Cloud-First, Mobile-First approach. Over 100,000 registered patients now can access medical services remotely.
"We are fully committed and dedicated to providing quality healthcare to all patients. Due to COVID-19, it was the need of the hour for us to provide instant access of our doctors to their patients and KareXpert's digital Telemedicine digital platform along with their exceptional customer service, enabled us to provide uninterrupted services to our patients instantly."
With the outbreak of COVID-19 in India, Telemedicine solutions have seen an exponential surge in usage during this time, where both doctors and patients can see extreme benefits during this pandemic. KareXpert has recently

announced

to provide free access to its Telemedicine digital platform as a social give back to Indian healthcare professionals for the lockdown period as per T&C.
"We stand in full solidarity with Indian healthcare professionals in this fight against COVID-19 and believe that our initiative of providing FREE Telemedicine digital platform access to hospitals, doctors, and clinics will enable them in reducing the exposure risk to some extent till the threat subsidies"
Hospitals, Clinics, and individual Doctors can start their FREE Telemedicine practice after completing a

signup

form and executives will help you to start your services instantly.
About KareXpert Telemedicine:
KareXpert Telemedicine, a cloud-first and mobile-first digital solution help in expanding value-based healthcare to remote patients. A disruptive and cost-effective platform that comes with an integrated Patient EMR/EHR, cloud-connected Medical IoT devices (ECG, Spo2, BP, Temperature, Pulse oximeter, Blood Sugar) for the machine to machine real-time information sharing with the remote doctor, and enabled with E-Prescription for the doctor to send the prescription in the same session. KareXpert Telemedicine gives healthcare organizations the flexibility to deliver high-quality care to their patients anytime, anywhere.
To sign-up, visit the KareXpert website today!