What is pharmacy information system: Features, Benefits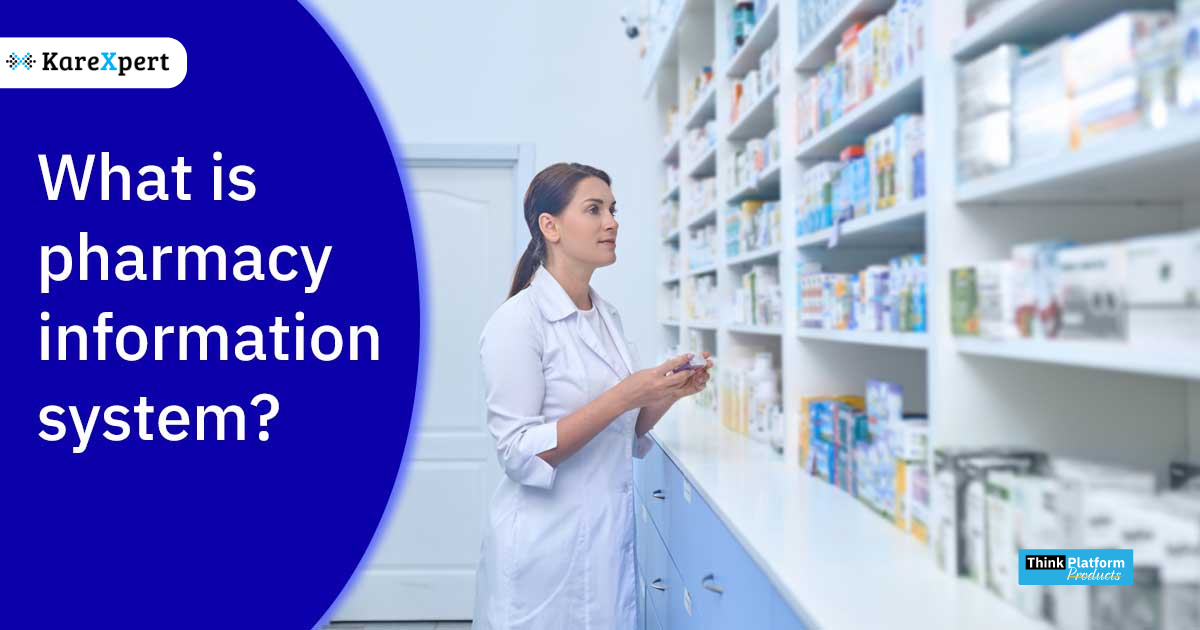 A drugstore for patients is not just a place to get prescribed drugs as patients always treat druggists very much like a consultant to help them opt for over-the-counter (OTC) medicine or to get more details on dosage and instructions.
However, they don't always have detailed information about a patient's medical history, symptoms, or treatment procedures to deliver useful advice. But now, with the use of pharmacy information systems, this is rapidly changing.
What Is A Pharmacy Information System?
Pharmacy information system (PIS) is a system that records, oversees, and stores patient related information. This information is then utilized for tracking of patients, decision making, re-ordering, reporting, billing, workflow management and quality assurance. A pharmacy information system is utilized in inpatient and outpatient settings.
A PIS has a wide range of purposes and capacities to keep up with the inventory and association of drugs. This can be used as a separate system solely used in the pharmacy.
Applications Of A Pharmacy Information System
 Medication therapy management
The drug store shows a significant impact on patients' adherence propensities. This arrangement of administrations given by drug specialists is known as Medication Therapy Management (MTM).
MTM covers such processes as:
Making a prescription plan

Settling drug-related issues

Granting patient training and education on health
Here are a few highlights of PIS that aid MTM activities.
Gathering patient data

: A PMS works like the manner in which a CRM does, gathering data about the patient from various sources, including the ongoing medicine list, clinical history, and test results from their medical clinic's EHR, and information given in the discussion the patient, for example, way of life propensities, financial elements, and wellbeing objectives.

Patient data analytics

: The gathered information is converted and used for further examination.

Fostering a patient consideration plan

: Here, prescription adherence apparatuses such as notices and schedules can be utilized. A doctor and a drug specialist work together on the medical treatment plan and afterward follow the outcomes.

Executing and assessing medicine treatment

: Once more, drug specialists and doctors evaluate any prescription issues and incidental effects that emerge during treatment and change care procedures.
Inventory management processes in the drug store face challenges with paper-based work and manual checks. Order request forms are filled manually and sent to producers through fax. Barcodes are scanned regularly to update stock-related data, and unclaimed prescriptions returned to stock. Obviously, not all processes can be computerized because of technical constraints. However, a pharmacy information system can deal with a few routine errands.
Stock order: Prescription counts are done consistently, yet even that can't help in the circumstance where medication sums are included erroneously or not refreshed in that system on time. A pharmacy information system can keep a point-by-point log of your stock that can be effortless with stockpiling conditions and termination date, permitting you to forestall perilous blunders.
Drug ordering: A PIS utilizes reorder focuses or standard levels set up by the drug store to generate orders automatically. The system ascertains the number of items that are expected to raise the stock level and adds this amount to the order. The orders are then sent digitally.
Inventory reporting: This system creates reports which enables drug specialists to decide the better-performing wholesalers and merchants and comprehend what elements become an integral factor while requesting prescriptions. This can assist them with better getting ready for seasonal flu season when certain medications are sought after and consequently calculate standard levels.
Compound pricing and billing
Compounding features are firmly entwined with inventory management and prescribing, so they're much of the time introduced as one solution. There are multiple ways by which a PIS can guarantee precision during the time spent drug dosing.
Scale integration: This system interfaces with scales and consequently log weight, in any event, and then send cautions when the weight is out of resistance range.
Multi-batch compounding: Software can without much of a difficulty make compound batches, manage their quantities, and organize them. You can likewise combine batches into one prescription into one prescription with all data nitty gritty to effortlessly find them.
Automatic compound pricing and billing. The system calculates costs for your compound items based on overall prices of the ingredients.
The procedure of e-prescribing includes the electronic creation and transmission of a drug between a prescriber and a drug store. Using an electronic health record a physician makes a medicine request and sends it to a patient's drug store through a secure connection. The drug store can then convey that the request was gotten and filled, and even notify if the patient hasn't gotten their prescription. Renewal requests can likewise be made in a few clicks.
This eliminates paper-based work and guarantees that the request is rarely lost or misjudged — the measurement is dependably precise since the chance of human mistake is limited.
A cutting edge system goes beyond accepting debit and credit card payments.
This incorporates compatibility for:
Support NEFT payment or through UPI

Generate customized financial reports
Benefits Of A Pharmacy Information System
Instills efficiency in work
Empowers the end users to oversee patient profiles, oversee handling and charging, smoothen their work process, oversee money due, oversee claims, and control stock administration.
Offer better recommendations to patients
With more time availability, users can more readily help, suggest, and give experiences to the clients about the prescription they expect to purchase its substitutes, and that's only the tip of the iceberg.
Drug stores play a vital role in helping manage the distribution of substances by entering all prescriptions in the database and checking it while dispensing drugs. A pharmacy information system enables you to shorten the logging time and manual work to just a few clicks as information is automatically added to the patient's medical history.
Pharmacy Information System Integrations
Interactive Voice Response solutions
HIPAA-consistent IVRs are well known in the drugstore setting when the floor is occupied and the telephone continues to ring.
Delivery and shipping solutions
In case you're not doing deliveries all alone, incorporation with other providers will be useful while overseeing orders, sending order delivery alerts, and automating the fulfillment order process.
A system can be plugged into PIS and make open marks with huge print, Braille, Controlled Substance Safety and Dual Language names.
Conclusion
Going ahead with the pharmacy information system benefits can be a catalyst for your growth. As it has helped pharmacies to chart solutions to challenges which they encountered previously.