Healthcare Software: Types of Healthcare/Medical Software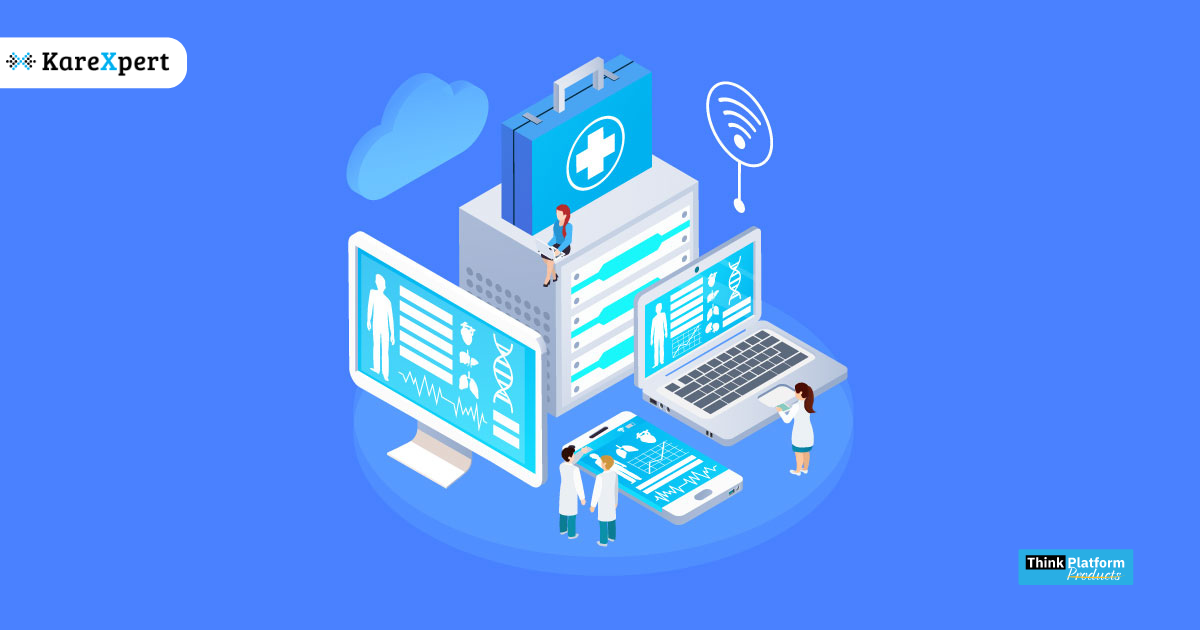 The adoption and implementation of digital healthcare services are easy. It makes healthcare operations flexible, agile, resilient, efficient, and cost-effective. It assists healthcare services to reach remote places, strengthening accessibility. Digital healthcare is rapidly gaining popularity amongst healthcare providers. It is implemented with the help of trained personnel, robust digital infrastructure, and wide-ranging software and technologies.
An overview of the healthcare software and its main components
There are countless healthcare technologies available in the healthcare sector, from point-of-care devices to massive diagnostics and surgical robotics. Healthcare services are increasingly dependent on digital technologies to amplify the capabilities of healthcare providers to manage patient load and delivery enhanced medical care services. The following are different types of software that are extending strong support to healthcare providers.
Different Types of Healthcare Software
1. Electronic health record software (EHR):
EHR software is a health information technology solution used by healthcare providers to record all patient health records in digitized form across doctors and healthcare facilities.
Features: The Medical EHR software contains all patient health and treatment-related data including medical history, diagnosis, medication, immunization details and treatment, and more. Patients, doctors, and authorized people can access EHR anytime and anywhere, which helps in the proper diagnosis and treatment of existing ailments. Furthermore, when implemented at a large scale, EHR can help determine disease prevalence and incidence and support public health policies.
2. Hospital management software ( HMS ).
These are cost-effective digital solutions that help resolve challenges and streamline processes across operations, administrations, data management, and other departments of a hospital.
Features: Some key features include the effective management of scheduling appointments, doctor timetables, pharmacy inventory, operation room availability, food for inpatients and cafeteria, other supplies and inventories, etc. The software also supports patient registration, admittance, billing, insurance, credit tracking, and much more.
3. Urgent care apps:
With the rise in smartphones, the demand for urgent care apps have increased. These are usually applications for smartphones which help people to remotely connect with a healthcare professional in case of emergencies.
Features: It enables SoS calling to doctors and nurses. The patient can connect with the healthcare practitioners through video or voice calling, exchange information, and receive clinical advice in a matter of minutes. It facilitates quick registration. Some apps have data analysis capabilities. They assess patient data and connect them automatically to the right doctor.
4. E-prescribing software:
The software facilitates the generation and sending of a doctor's prescription from a healthcare provider to the nearest pharmacy.
Features: As this process does not involve handwriting it ensures accuracy, patient safety and transparency. Its features include electronic approval, automated alerts for adverse drug interaction, medication support and reminders, patient education, and formulary checking.
5. Healthcare CRM:
A customer relationship management (CRM) tool, healthcare CRM designed for care providers to manage and organise patient data. It assimilates patient data through multiple sources to present a rounded profile of patient including his or her activities and habits.
Features: Its features include centralized storage of patient information, self-help and outpatient services, registration, appointment and billing, as well as medical facility profiling and streamlining of operations to ensure optimum utilisation of human resources.
6. Practice management software (PMS):
The digital application helps in managing daily operations in a clinic or healthcare facility.
Features: Some key features include: scanning and digitization of insurance cards and other documents, processing of insurance claims, verification of eligibility, fraud prevention reporting, mass billing, tracking balances of patients, automated claim submissions, reconciliation, and more.
7.Lab information management systems (LIMS):
The LIMS system helps diagnostic labs to manage data recorded and produced in a lab. It integrates lab operations and extend better stakeholder experience.
Features: LIMS is helpful in sample management and records all information related to patient data and the journey of sample from centre to labs. It also supports workflow management, SOP implementation, and compliance and regulatory adherence.
8.Billing software:
A healthcare facility generates thousands of bills across various departments, and hence, billing software plays an important role in streamlining and integrating various processes and functions.
Features: Hospital Billing software helps in managing patient and non-patient records, bill generation and recording, scheduling, compliance, electronic submissions, claim verifications, and most importantly ensures transparency in all financial transactions.
9.Medical imaging software:
These are diagnostic software which help in enhancing the quality and analysis of imaging conducted for diagnosis such as x-rays, CT, MRI, and others.
Features: The common features include image registration, segmentation, 3D and 2D visualisation, and recording of all imaging data. Its application also includes image fusion, identifying changes over a period of time, and so on.
10.Telemedicine software:
This software facilitates telemedicine, which is a system of digital technologies that uses telecommunication and electronic information solutions to provide clinical services to patients in a remote location.
Features: The common features of telemedicine software include audio-visual conferencing capabilities, clinical document generation, remote scheduling of appointments, HIPAA compliant communication, patient history management and analysis.
11.Medical equipment management software:
The software keeps a track of all the medical equipment throughout their lifecycle in a hospital.
Features: It includes recording of installation data, streamlining of work operations, ensuring adherence to safety standards, scheduling of maintenance, repair and sterilisation, and labelling of instruments for optimal usage.
Future of Healthcare Software
Healthcare is rapidly getting digitized at various levels with new software and solutions. Digital healthcare leverages these software and digital technologies to make quality healthcare services attainable, inexpensive, and sustainable. Hence, the healthcare software sector has a bright future. In India, the National Digital Health Mission (NDHM) was launched in 2020 to promote digital healthcare. As the digital healthcare sector grows, the software, systems, and programs enabling the transformation will also evolve and shape the healthcare of tomorrow.