OPD vs IPD : Difference Between OPD and IPD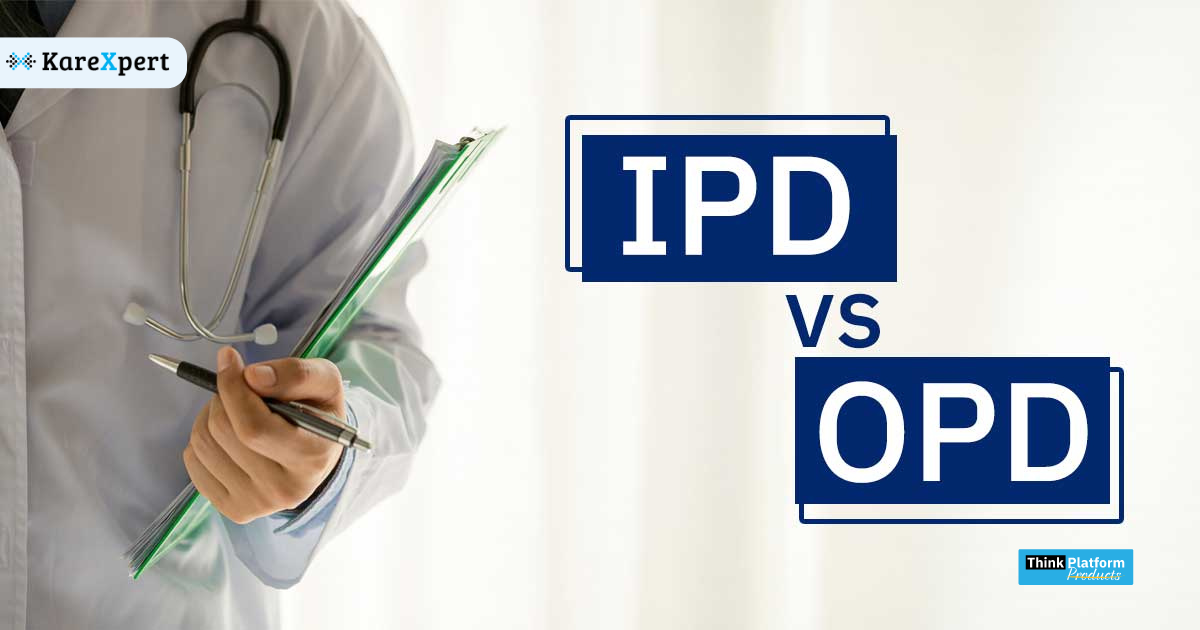 Introduction
OPD full form is the outpatient department, whereas IPD stands for inpatient department. In the outpatient department (OPD), there is no requirement to admit a patient in a hospital, but in an inpatient department a patient is admitted to a clinic or hospital for at least 24 hours. If we look at cost-wise, there is a difference. Inpatient Department (IPD) is slightly costlier than OPD. The frequency of visits to a hospital or clinic may be more in OPD, whereas in IPD, a patient usually gets discharged when a patient is completely fit to go.
An overview of Outpatient Department (OPD)
In OPD, the patient is looked after by the physician or specialist once the patient enters the OPD. For most patients, a bed is not required for the treatment. The whole treatment procedure is less than 24 hours.
Also, there is an option for physicians to see the patients at a specific time.
An overview of In-patient Department (IPD)
An IPD is a part of a healthcare facility or hospital where patients are admitted for over 24 hours. An IPD of the hospital is generally outfitted with beds, medical equipment, and 24×7 availability of doctors and nurses.
A patient is either referred from the emergency, OPD or a physician or specialist for further medical procedure.
OPD and IPD management using HIMS
Technology has played a vital role in streamlining the processes of OPDs and IPDs in hospitals. Loads of paperwork and discrepancy are reduced to some extent.
Maintaining the health records with the usage of best possible technologies increases health awareness and advancement in medical knowledge. Reduction in healthcare costs and accurate diagnosis are also some of its benefits.
Similarly, the Hospital Information Management System (HIMS) fulfills today's patients' urgent medical needs by empowering hospitals. Alongside this, it improves patients' care and decreases medical blunders. It enables healthcare facilities to manage and accelerate daily activities smoothly.
Benefits of OPD Management using HIMS
Appointment & Billing

: Visitors can book online appointments with physicians effortlessly. Also, the integrated billing management feature helps in overseeing OPD patients' orders, diagnostic lab reports, and daily financial transactions efficiently.

Queue Management

:Usually in healthcare facilities queues of patients are managed digitally or through conventional queue systems. In the digitized system of managing the queue, patients have to be seated in chairs or wait in a hall until their token number is displayed on a digital screen. Before that, patients are not eligible to get in touch with the doctors. The best part of this system is patients don't have to stand in long lines and can rather rest until their turn comes up. Also, overcrowding in the queue can be reduced.

E-prescriptions

: With HIMS, in addition to above-mentioned benefits, it ensures that the process of uploading and sending prescriptions to patients is seamless. Right prescription is always delivered to the right patient. To make prescriptions secure, it gives the reliability and peace of mind which is needed to manage them.

Reports & Analysis

: As hospitals have to be in sync with patients' needs, it is extremely important to get accurate reports for better analysis. Keeping this in view, HIMS has attributes that enable healthcare facilities to easily identify underperformance. It demonstrates promptness in delivery and managing accurate reports with updated and precise medical records.

Doctor Management

: Hospitals can closely monitor physicians performance from a single platform. It can help stakeholders identify weak areas where improvement can be done. Apart from this, the ability to manage physicians' daily appointments and billing also comes in handy.
Benefits of IPD Management using HIMS
Bed Management & Allocation

: To show the availability of beds to patients is crucial. This is what the pandemic has taught us in the past 24 months. Slow or delayed responses to patients' requests for bed availability turn into a pathetic experience. HIMS can help in providing the real-time availability of beds.

Discharge Summary

: Through constantly aggregating the information on prescriptions, patient's health status, and discharge details, information related to billing is informed regularly to patients. There are no unwanted financial surprises for patients during the discharge process. Also, there are very few errors and mistakes in the discharge summary, which leads to pleasant discharge journeys for patients.

Patient Registration

: A HIMS helps the reception team with quick accessibility to a digital mode of appointment and availability of doctors. With real-time visibility, there is efficient care by offering patient enrolment, ready templates, patient check-in time, billing information, prescription verification, report details, follow-up requests and EHRs/EMRs updation and retrieval onto a single platform.

Lab Reports

: For staff involved in laboratory activities, the proliferation of HIMS is a blessing. It gives quick ability to keep a track record of samples, test results, etc. It opens a doorway to generate inpatient orders, monitor the progress of the test, and provide essential updates associated with it in real-time.

Billing

: In your effort to manage inpatient bills efficiently, HIMS always helps. From a paper-based tedious approach, you can easily shift to a fast mode of managing the billing process. It swiftly pulls out the correct billing details with just a few clicks and keystrokes. The billing system starts working as soon as the patient starts getting services from the hospital. It takes the total billable information right from the confirmation date and time to the release date and time.
Feeble software system slows down the efficiency of the hospital's staff members. Daily information overload in OPD and IPD must be shifted to another efficient system which can capture the information efficiently and analyze it correctly. This will surely improve efforts to elevate the patient experience and productivity of the staff.
Effective HIMS must be set up in hospitals. So that there is always a better dialogue between healthcare providers and patients in IPD and OPD of the hospital.
Conclusion
There is a distinguished difference between OPD and IPD in hospitals. Both are necessary for taking care of patients.
Whatever systems you are using for managing your OPD and IPD ensure that it has the capacity to transform your hospital. This will empower you to serve more patients even in times like Covid-19.