India's Top Newsmaker 2022 to be followed in 2023 of Healthcare Industry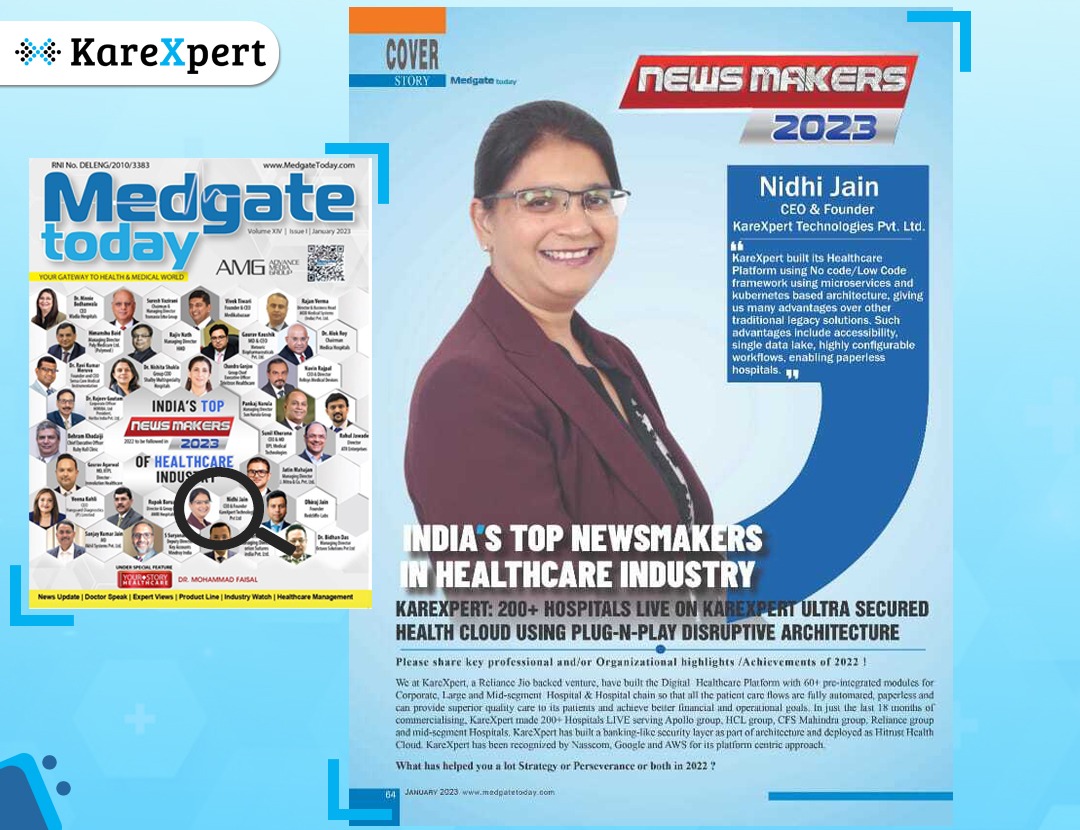 In a recent edition of Medgate Today, named India's Top Newsmaker of 2022 to be followed in the 2023 of healthcare industry, Nidhi Jain, CEO of KareXpert Technologies Private Limited, shared the company's vision and mission for the welfare of healthcare fraternity and what all it took to make 200+ hospitals live on KareXpert Ultra Secured Health Cloud using Plug-n-Play disruptive architecture and key achievements of the company in the last year.
Q1.
Please share key professional and/or Organizational highlights/Achievements of 2022 !
We at KareXpert, a Reliance Jio-backed venture, have built the Digital  Healthcare Platform with 60+ pre-integrated modules for Corporate, Large, and Mid-segment  Hospitals & Hospital Chains so that all the patient care flows are fully automated, and paperless and can provide superior quality care to its patients and achieve better financial and operational goals. In just the last 18 months of commercializing, KareXpert made 200+ Hospitals LIVE serving Apollo, HCL, CFS Mahindra, Reliance, and mid-segment Hospitals. KareXpert has built a banking-like security layer as part of its architecture and deployed it as Hitrust Health Cloud. KareXpert has been recognized by Nasscom, Google and AWS for its platform centric approach. 
Q2.
What has helped you a lot Strategy or Perseverance or both in 2022?
"The right choice of Healthcare IT Platform can help healthcare providers to achieve 20% lower operating cost, 30% more profit, and better experience and quality care for the  patients." 
We did two years of research and found many unsolved ground challenges of the Hospitals and unsatisfied business users and care professionals due to the lack of features, poor support, frequent downtimes, slow performance, and low or no security focus. Below are the problems we solved with real world customers:
First, Hospitals Usually deploy  10-15 different softwares (HIMS, Appointment, Queue Mgmt, EMR/EHR, LIMS/RIS, Pharmacy, Telemedicine, Patient Portal, Doctor App etc.) as required functionality is not available in single software and  trying to integrate with high hidden cost, broken patient journeys, slow innovation, and mismatched data.
Second  High operating cost due to  disjointed workflows and paper based systems, less visibility and poor mismatch of supply and demand of  inventory items, and many more such as   payout calculations, real time MIS reports and dashboards. 
Third Higher TATs and poor patient experience as the system is not fully automated. This problem becomes bigger  when there are multiple facilities managed by a single provider to give standard of care to their patients. KareXpert provides seamless multiple facility management using . Masters, Workflows, tariff, TATs, Configurations and shareable medical records.
Fourth, lack of new revenue generating and  operating  features and services such as Telehealth, Patient portal, Home care, Counseling for better IP Patient footfall, EHC packages, Lack of Packages of OP and IP for better patient treatments.
Fifth is Lack of Next Generation mobility solution for better connected care where care professionals of all kinds are connected 24×7 using Mobile App. This includes Doctors, Nurses, Billing, Call Center and all types of business users including finance and marketing.
Sixth is Poor Management of Data as data may be sitting in different systems or poor archival process may lead to loss of data or inaccessible data. KareXpert has created a data lake which can cater migrated  clinical patient data records and new generated data also.
Seventh is big challenge is integration for creating a better digital  ecosystem  such as Lab machines, PACS, HR System, SCM system, Finance system, Payment GW, SMS, Email, POS machines etc. This could be a huge effort if the system is changed and high cost too. KareXpert has solved this issue by creating pre integrated connectors which make smooth integration at affordable cost.
KareXpert solved these issues by building a Hospital Healthcare PLATFORM with 60+ pre-integrated modules in a plug-n-play architecture for Corporate, Large and Mid-segment  Hospital Chain and delivered it as " Ultra Secure Health Cloud".
Q3.
Would Rupees as trading currency help Indian Healthcare?
KareXpert has built software to cater global needs empowered by our full software development team in India. KareXpert works with global healthcare partners such as AWS, Microsoft, GE Healthcare, KPMG, Ford Innovation labs, and more, to solve Healthcare IT struggles and challenges worldwide through collaborative cutting-edge technology. KareXpert is currently  operating in 5 regions today, KareXpert is committed to deliver solutions internationally for North American, South East Asian, African and Middle Eastern healthcare providers at an affordable cost by creating a local partner ecosystem.
Q4
. What keeps you motivated in the midst of challenges?
KareXpert vision is to empower 10,000 Hospitals irrespective of their locations in the shortest possible time frame and enable the highest quality of care to patients through the digitization as a service to the world. I have been in the software industry for more than two decades, but I must say this is the most complex operation. As it is  a mission critical application and failure is not an option and that keeps KareXpert team challenged enough to solve Healthcare Providers problems not only from features and workflow perspective but also from MIS, BI dashboard, Clinical Medical records, Patient PHR, Inventory pharmacy mgmt, Lab and diagnostic management. More than 80+ different user roles are there in a single Hospital, which use the system to take care of the patient, and we are making sure that every role is able to do its job flawlessly.
Each team member of KareXpert is empowered and committed to deliver seamless digitization to the Healthcare professionals.
Q5.
How does ensuing year 2023 look like for you, new plans, new business mantras, new products, new markets or cautiously consolidating the gains made in 2022?
KareXpert believes in problem solving and delivering value based solutions and then providing end-to-end managed services bringing much needed satisfaction to business users at the end. KareXpert is the only  healthcare IT companies in India who has made 200+ Hospitals LIVE in last 18 months using its "Health Cloud" and added customers like Apollo group, SVIMS Hospital Mahindra group, Reliance group,, HCL group with their chain of Hospital to its list.